Dehradun Smart City: How these projects can make Dehradun smart?
National Smart Cities Mission, is one of the most ambitious schemes of the incumbent Narendra Modi led NDA government. The mission focusses on building world class cities with the help of active citizen participation and providing state of the art infra and tech related services. With cities occupying a paramount role in sustainable growth, it is imperative to develop and equip the rapidly expanding urban centers with all the adequate amenities. Aligning with this vision, the mission was launched nation wide in 2016. Dehradun, capital of Himalayan Uttarakhand, got featured on 23 June 2017 in the smart cities list. Thereafter, the Government of Uttarakhand created Dehradun Smart City Limited (DSCL), a special purpose vehicle (SPV), for the execution of the smart city project in Dehradun.
(Official logo of Dehradun Smart City Limited. Image Source: Smartnet)
The state government has allocated approximately INR 1400 Crore budget, additional to the already existing urban development programmes and policies, for identifying and implementing the projects necessary for making Dehradun smart and citizen friendly. The smart city project aims at creating a robust basic infra network, promote environmental sustainability, enhance citizen participation and improve the overall living experience of the citizens.
The smart city project in the capital city of Dehradun will be implemented in two modes
(a) Area-Based Development (ABD): projects meant for ABD will be implemented in 10 wards identified and selected by DSCL. The ABD projects will be specific and limited to the 10 wards. It comprises of projects like model roads, multiutility ducts, pedestrianization, developing open spaces and many other initiatives.
(b) Pan City – some projects will be conceptualized and implemented at a city level. These projects will be operated for the entire city. They will not be limited to any particular locality or area of the city rather the entire city will be able to reap benefits out of these projects. It will include the formation of Integrated Command and Control Centre, laying of optic fiber cable, placing smart intelligent poles and rolling out citizen outreach program.
So let's have a quick look at which kind of projects are proposed for making Dehradun smart and citizen friendly.
(Smart bins installed in Dharmshala. Image Source: Swachh Bharat Mission)
1- Clean City- INR 14 Crore has been allocated for this component of the smart city project. It focuses on making and keeping the city clean and hygienic. Smart bins and smart toilets will be deployed in the city for keeping it litter free and hygienic. The smart bins will be equipped with sensors, RFIDs, hydraulic lifters and many other advanced tech enabled features. On other hand, toilets will have feedback machines, efficient sewerage system, increased sanitation and improved lighting.
2- Sustainable Transport- One of the most crucial elements of the smart city mission, as it directly impacts the environment and the growing problem of traffic congestion in the city. The component aims to promote non-motorized transport in the city by developing pedestrian friendly routes and smart bicycle network in Dehradun (as it has been done in Pune and Bhopal). Promoting electricity operated buses and cars remains another important aspect of this project category. INR 152.5 Crore has been allocated for sustainable transport.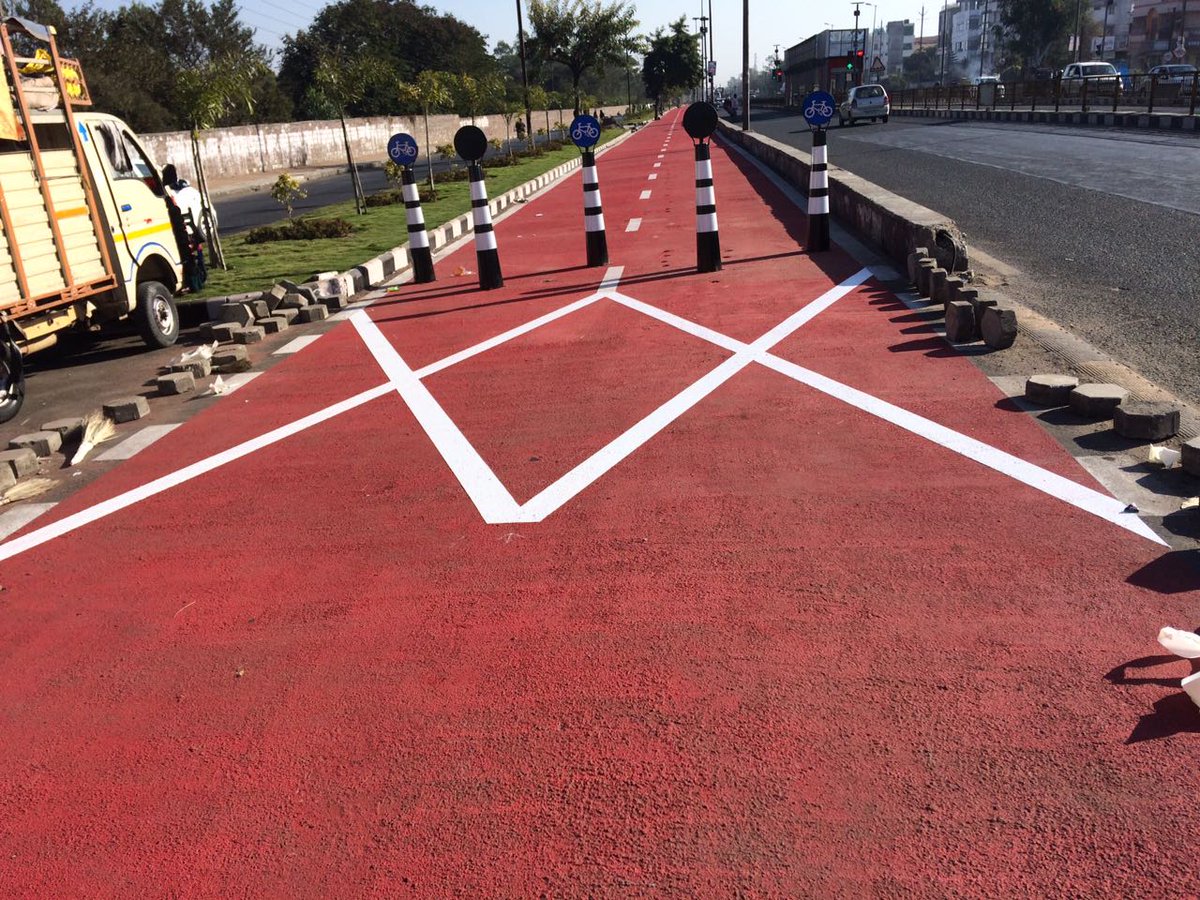 (Cycling tracks created in Bhopal. Image Source: Bhopal Smart City Twitter Handle)
3- Healthy and Safe Citizens – By allocating INR 210 Crore, the government aims at setting up smart water ATMs, improving city junctions (chowks) and rejuvenating the Parade Ground area situated in the heart of the city. Creating a model road remains another important part of this project component.
4- City Aesthetics and Identity- As the name suggests, the project aims to revamp the city aesthetics and identity. One of the major components under this remains the restoration of the old and iconic Astley Hall. Along with it, citywide tree plantation drives remains the core part of this project. City signage will be something worth waiting for under this category. INR 65 Crore has been allocated for City Aesthetics and Identity.
(Astley Hall in Dehradun. Image Source: Bugyal Valley Blog)
5- Core Infra – Being allocated with INR 705 Crore, the project aims at overhauling the core infra of the city by replacing the existing age old street lights with smart solar lamps, fitting smart water meters, promoting the construction of green buildings in the city, creating storm water drainage, smart utility duct and fixing rainwater harvesting structures in every government building/premise. Establishing a smart Doon Library and smart aaganwadis and schools remains an eye catchy, much needed and innovative initiative under this category.
(Solar powered street lights and traffic lights is one of the core focus areas under the smart city project. Image Source: Hindustan Times)
6- Pan City Projects- With INR 213 Crore, this remains the heart of the entire smart city project. Two landmark initiatives to be launched under this project component are: coming up with an Integrated Command & Control Centre (ICCC) and Citizen Outreach Program (COP).
ICCC is same as a central nervous system in a human body. ICCC monitors all the activities taking place in the city from a centrally located, tech enabled and responsive location. Be it a traffic jam or car jumping red light, ICCC takes cognizance of all the events and send alerts to the concerned line department for action. Fire, Police, Medical assistance related services remain on the top watch list in ICCC operations, which results in better response time and crisis handling of these services for its citizens.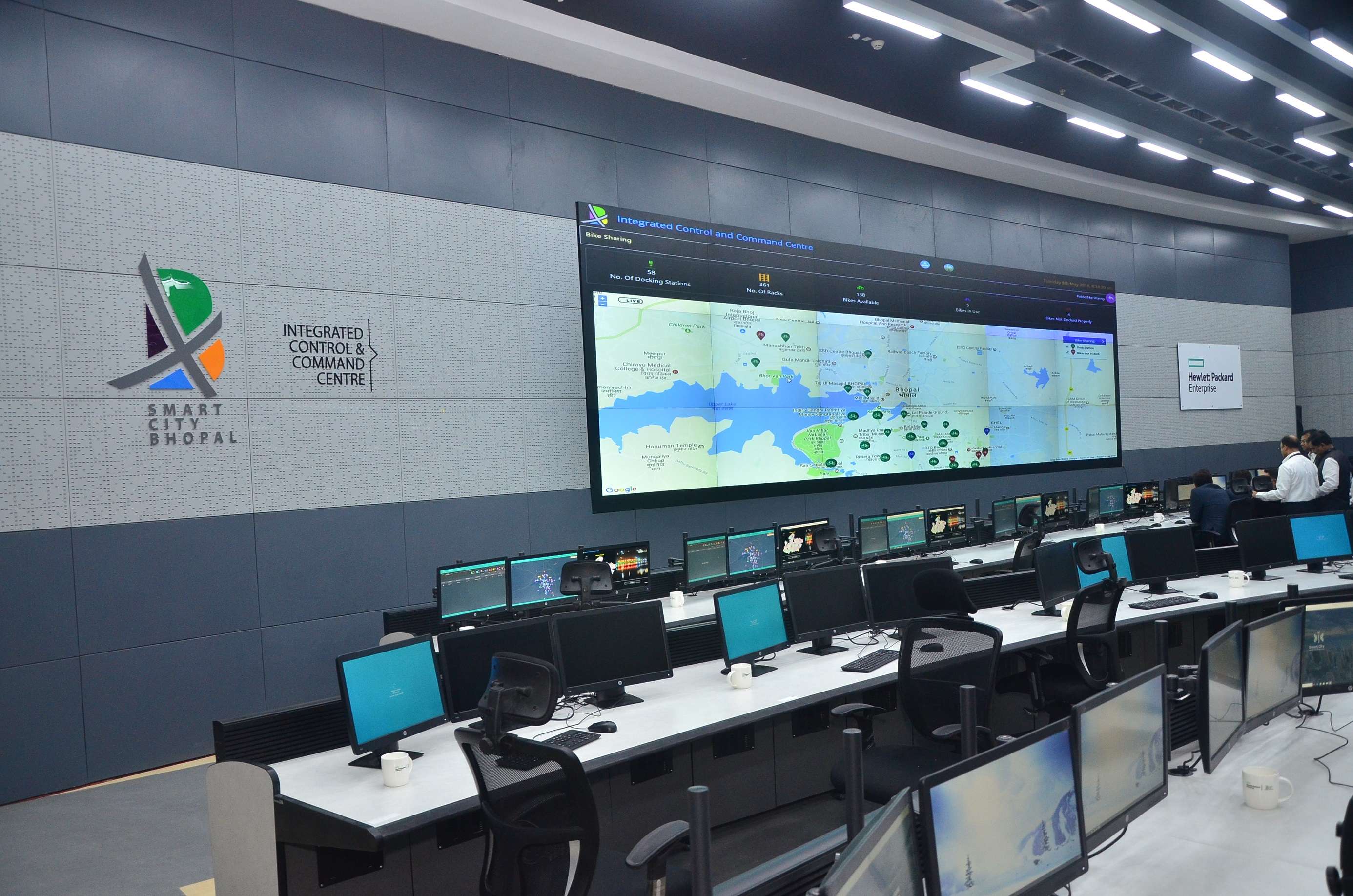 (Integrated Command & Control Unit in Bhopal. Image Source: Bhopal Smart City Twitter Handle)
The government will also establish a COP unit which will be responsible for receiving public feedback, generate awareness and resolve queries related to smart city project.
As these projects get ready to roll out in a phase-wise manner, the question remains whether Doonites are ready to participate in the process of creating a smart Dehra?
(The author is working as a Policy Analyst with Gati Foundation, a think tank working on issues of environmental policy & regulation and sustainable urbanization)